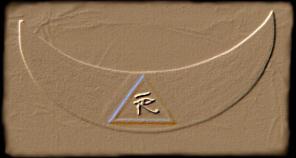 Liber Adohi
or the Lesser Banishing Ritual of the Decagram
The following text was devised by me for use with the practice of evocation in its form utilizing the circle and triangle as given in the Goetia. The ritual uses the enochian language and the decagram in place of the Hebrew and pentagram.
1. Draw deeply your breath drawing it down through the whole of your body, as you do so touch your brow and say VLS YOLCI IAOD. Then drawing the breath of energy down, touch your genitals and say VI I VL VOUINA BAGHIE ALDI DE MOZ. Then touching your right shoulder say CHRISTEOS LONSHI. Then touching your left shoulder say AQLO ADOHI. Then clasping your hands around your navel say CHRISTEOS and proclaim the name of your HGA or principle deity.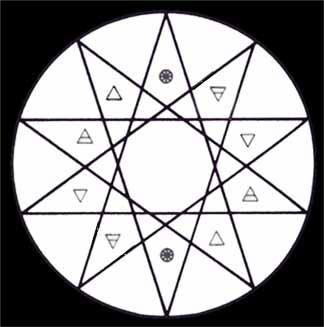 The double pentagram.
2. Stand now facing east and with all the strength of which you are capable fling forth the double banishing pentagrams of earth, the decagram. Then as you see it before you proclaim RAASY!. Then turning to the south repeat but say BABAGE, then in the west sa y SOBOLON and finally in the north say LUCAL!
3. Returning to the east out stretch your arms in the shape of the TAU and say INOAS, Z CHIS LAS OLLOR, CICLE, Z CHIS ROR.
4. Repeat as part 1. and close.

Enochian Holy Table
Notes on Enochian
VLS YOLCI IAOD
(The end bringeth forth beginning)
VI I VL, VOUINA BAGHIE! ALDI, DE MOZ
(O you the second of the first, dragon of fury! Of gathering and of joy)
CHRISTEOS LONSHI
(Let there be power)
AQLO ADOHI
(In thy kingdom)
CHRISTEOS "N...."
(Let there be "name hga")
RAASY= In the east, BABAGE= In the south, SOBOLON= In the west, LUCAL= In the north
INOAS
(They are become)
Z CHIS LAS OLLOR, CICLE, Z CHIS ROR!
(They have become the rich man, the mysteries , they have become the sun!)